What are bump-in/out times?
For Vendors:

Opening Time: 9 a.m. This is when vendors can start setting up their stalls or services.
Closing Time: 6.30 p.m. By this time, vendors should conclude their activities and start wrapping up.


For the General Public attending the event:

Gates Opening: 11 a.m. Attendees can start entering the event premises from this time.
Gates Closing: 5 p.m. This is when the event officially ends for the public, and attendees should exit by this time.
This structure ensures that vendors have ample time both before and after the official event times to set up and dismantle their stalls. The general public, on the other hand, has a specific window during which they can enjoy the event. Please ensure that you have a high-vis safety vest on during set up and pack up of the event.
Power, Water and Wifi
Sites have been designed with specific utilities in mind. Those that require power have been strategically positioned close to areas with electrical access, ensuring that vendors or attendees needing to use electronic equipment can do so with ease. While water is available, its access is limited to particular sites, making it important for visitors to plan ahead if they have water-related requirements. On the technology front, there's a notable absence of Wi-Fi. This means that anyone requiring internet access should be prepared to use their own device's cellular network, hotspotting as necessary. This could be particularly essential for vendors processing electronic transactions or attendees wishing to stay connected during their visit.

Marquee or Shading
While bringing a marquee is encouraged for those who have one, it's by no means mandatory for participation. However, it's worth noting that Melbourne's weather is famously unpredictable. One can experience a sudden shift from clear skies to a downpour in a matter of minutes. Attendees should be aware that there won't be any direct provisions made for protection against the sun's rays or a light drizzle, so having a marquee might be a prudent decision to ensure comfort throughout the event.


Pre-event Inspection
The 17th of November, is the date we have available for everyone to come and inspect the grounds. Please arrange with Tristan prior to this date if you wish to do so.
Below is the official sitemap for the event. You'll see numbers on these stalls, these relate to the numbers provided to you.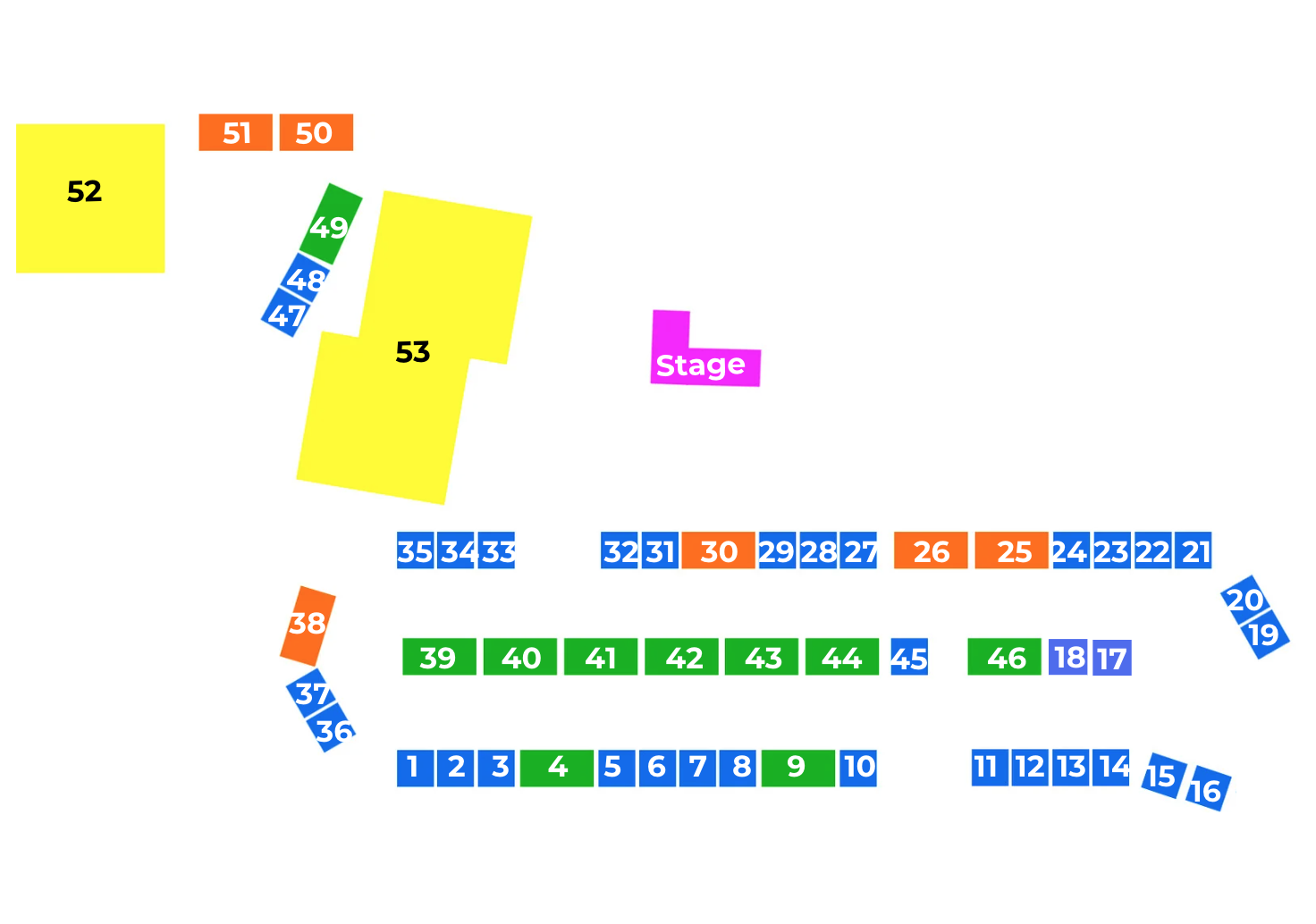 Paul Manning Meditation
Events. Personalised
Masquerade Talent Studios
Friends for Ever
Lollipops Narre Warren
Cheeky Munkey


Bempowered
Brentwood Neighbourhood Park




Whitestone Landscaping
Yellow Drama
The Engraving Emporium


Prime Property Buyers Pty Ltd
3jbeanz
Mortgage Choice
KC Garden Works
Montalto Munchies (Food Stall)
LeReve
Personalise Support
Myella Group
Dear Archie
Wowww Chocolates
Rhema Ignite (Food Stall)
Crafters Haven
Skin Haven
Perfect scent by Ange
Potato Ninja (Food Stall)
ASV Academy Cranbourne
Homely Indulgence
Miss Tilly's Delights
Lions Club
Gmh Garden Care.
Flora's Soaps and Oils
Stamping Fair
Bobster & Co
Clera's Closet
Casey SES
Casey Fire Brigade
ATA Martial Arts Academy
Casey Police
Heritage College
Books to live by
Revolve Dance Studios
Bake Nest
Pure MVMT, The Playground
Kangaroo Courts
Ice Screams (Food Stall)
Boost Juice
Kidz Party Wheelz
Ardy's Jumping Castles
To get the word out there, amongst the community, we encourage people to post to their own social media. Using the below, you can use this as a framework to post on your wall: https://docs.google.com/docume...
Here is the image that you can use for the event as well.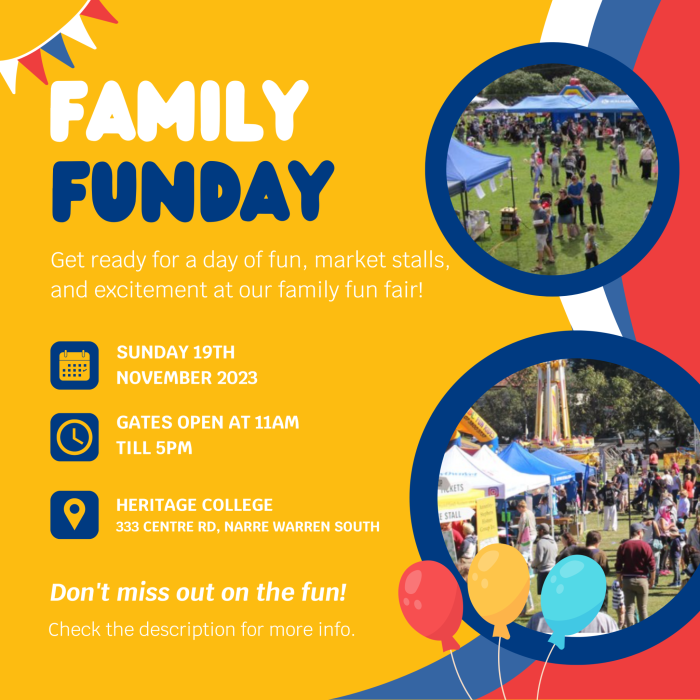 Examples of how we used it internally as below: